Stone Gods reach No. 33 in Decade's top 100 Rock Songs
Classic Rock publish their chart, with Don't Drink The Water as Stone Gods' entry. Excellent news!
31.12.09
The Show on the 29th June 2009 has been cancelled.

This is due to personal reasons within the Dragonforce camp.

Refunds for tickets can be obtained from point of purchase.
Kerrang Awards Gig

Stone Gods are supporting Dragon Force on 29th July
Details can be found here
http://www2.kerrang.com/2009/06/limp_bizkit_you_me_at_six_and.html 
This Monday 23rd on Kerrang Radio 105.2fm in the West Midlands, DAB, Sky, Freeview and online, the delightful Christian and Loz are offering a chance to meet the band at the Birmingham Academy on Tuesday night. The winners get a plus one each, too. Happy days!
So tune in, log on and rock out and we'll see you lucky winners in Brum!
Red Bull Bedroom Jam Interview
This coming Monday 23rd there is a webcast with The Stone Gods in as the special guest band doing an exclusive interview .

Tune in at 5pm at http://www. redbullbedroomjam. com to watch it.
Stone Gods are proud to announce that our March tour is to be sponsored by none other than Jagermeister, surely the finest alcoholic beverage on Gods green earth.
Some exclusive merchandise will be on offer too, so watch out for that!

Remember to drink responsibly and ROCK responsibly throughout March and beyond!!!

21 Mar 2009 Academy 2 Newcastle
22 Mar 2009 King Tuts Glasgow
23 Mar 2009 Academy 3 Manchester
24 Mar 2009 Academy 2 Birmingham
26 Mar 2009 Academy 2 Sheffield
27 Mar 2009 Barfly Cardiff
28 Mar 2009 Fleece Bristol
29 Mar 2009 100 Club London *Sold Out*
The video for "Start Of Something" has been released today!!
To view it go here
http://www.stonegods.co.uk/news.php?nw_id=170
New Single Announced
Stone Gods have today announced their new single & video
....... It is "The Start Of Something"
The single will be released on  March 23 2009
with some old favourites as B-sides and a brand new song too
Tracklisting:
1 Start Of Something
2 Don't Drink The Water (acoustic)
3 Things Could be Worse (acoustic)
4 Where You Comin' From (acoustic)
March Tour - Support Band Announcement

Stone.. Gods Have announced their support act for the march tour

The Black Spiders www.myspace.com/theblackspiders

Stone%20Gods&tm_link=tm_header_search
14 November 2008
As per the bands official site, Stone Gods have cancelled their Inverness and Dundee shows due to illness.
Shows Cancelled
Friday, November 14, 2008
It is with great regret that, due to illness, we've had to pull out of the Inverness and Dundee shows.

We'll be back to giving it 100% for Glasgow. Heartfelt apologies to anyone who feels disappointed, we assure you we do to!


As always, love and respect, SG.
5 November 2008
For those unaware, the lads leatest single, Dont Drink The Water has entered the rock charts in the number 2
position... Well done guys!
8 October 2008
Stone Gods On Sky - Red TV
 Tune in to DITTO MUSIC LIVE -Sky Channel 180 on Thursday 16 October between  8-9pm UK time and see the lads performing live and an interview too!! If you miss it, you can catch up on thehighlights at www.youtube.com/dittomusic
6 October 2008
New Drummer Announced
The band have officially announced today the permanent recruitment of Robin Goodridge as their new drummer. In a statement on their site and myspace they said,
Drum Roll, Please...
After months of world-wide speculation, it is with great pleasure that Stone Gods would like to announce that permanently joining us on Good Ship SG, is one Robin Goodridge.
Of course it is!
The very same feller that so ably rescued us back in June, will be sat behind the drums as a full-time Stone God. He was instantly part of the gang back then and fired us up to the point of health and safety issues, so there was really no other choice. Thank you, from the bottom of our hearts, though, to the literally hundreds of drummers from all over the globe offering their services. It was quite overwhelming, it really was.

Three cheers, then, for Robin and here's to the future- it's so bright we're all wearing shades!

Peace, Love and Rock N' Roll
Stone Gods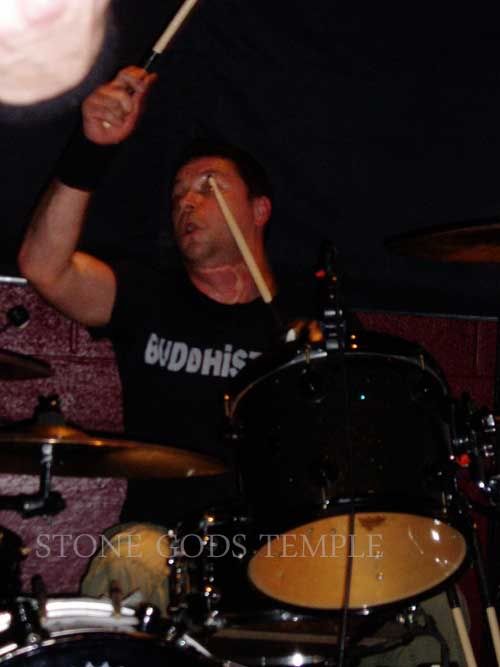 The Temple would like to take this opportunity to welcome Robin to the fold. Great to have you!! 
19th September 2008
Don't Drink The Water

New video to forthcoming single is released - see the Gallery page under 'Audio and Video'

15 September 2008
Stone Gods on Sky TV
Many thanks to our friends at the US Street Team for the news that the lads will be on Sky tv this week.

Watch
an exclusive interview with Stone Gods and find out their top tips of how to make it as a band with Emma Scott from Kerrang Radio and Lee Parsons.
On Ditto
Music Live
Thursday Night 8-9pm
Sky TV 180 (Red TV)

Dont miss it!!
 2 September 2008
New Single Release in October 
The band have announced that they will be releasing "Dont Drink The Water" as their new single  on October 28th 2008 in full physical format and on download. (including live versions of "Making It Hard" and "Knight Of The Living Dead" both recorded during the last tour) This will coinside with their tour alongside Airbourne which kicks off at the same time. The band have also said thay have recorded a video for the single.
20th August 2008
Moonfest Festival Gig Cancelled
The bands gig at Moonfest, Wiltshire will no longer go ahead due to the Festival being cancelled.

See Clicky for full details.
17 August 2008
Site Update
Ever looking to bring you all new and interesting Stone Gods information, we are pleased to be able to let you know of an addition to our site.

As every Stone Gods fan is aware, there are more than just four outstanding musicians that makes the Stone Gods world turn. Behind the scenes there is a dedicated crew of experts who excel in bringing the best out of our lads and whose commitment to Stone Gods is unquestionable and admirable!

Check out our new page, The Archangels, (or via The Gods page) the workers of the SG team and find out more, including a brand new and exclusive interview with Dan's studio partner in crime, Nick Brine.
 
2 August 2008
The band have confirmed the Barfly Birmingham gig - Emma Scott presents and have also revealed their drummer for the evening will be none other than Stuart Cable (ex Sterophonics, recently Killing For Company, Kerrang! Radio DJ and the subject of Jeff Collins' latest biography.) An amazing drummer with lots of experience. Should be an awesome night. Update flyer as from today..
29 July 2008
Ed leaves the band
From the Stone Gods official Myspace: "It is with very heavy hearts indeed that we have to announce the permanent departure of drummer and founding member Ed Graham from Stone Gods.
Unfortunately Ed has been physically unable, for a number of reasons, to fill the stool-position for some time and won't be able to refill it any time soon. Right now being in a rock band is simply not the best place for him.
It's been horrid and heart-wrenching realizing and coming to terms with this fact, but we all have to move on in order to keep this thing going. There is too much passion and love involved from us and from you, our loyal fans, for us to simply draw the shutters and shut up shop.

We realize that there will be some very disappointed and saddened people out there as a result of this, but let us assure you that we are amongst you. Now, more than ever, we all need to pull together and be positive about the future. I promise, it looks pretty darned bright once you see through the fog.

Unfortunately due to all of this, we will be unable to appear at Wacken festival, which is a terrible but unavoidable shame. There's a lot of that going around at the minute. Still, we're keeping our chins up and so should you! We're taking on the world regardless.

We thank you all, from the bottom of our collective heart, for your ongoing and invaluable support. You guys rule.

As always, love, respect and horns raised firmly aloft,

Stone Gods."
 ______________________________________________________________________
24 July 2008
Stone Gods: Nominated For Two Classic Rock Awards

Yesterday the guys celebrated being nominated for no less than TWO Classic Rock Awards, Best New Band and Album Of The Year for their debut offering, Silver Spoons & Broken Bones.

In the company of such rock elite as Alice Cooper, at the nomination ceremony yesterday, the band were invited to play a couple of their songs and learned of their nominations.

Voting for the awards begin on August 20th so get behind these amazing musicians to ensure they get the rewards they deserve.
19 July 2008
Stone Gods To Tour UK With Airbourne
Dates include:

Sat 1st Nov - Cardiff University
Sun 2nd Nov - Bristol Academy
Wed 5th Nov - Birmingham Academy
Thu 6th Nov - Sheffield Octagon
Fri 7th Nov - Liverpool Academy
Sat 8th Nov - Manchester Academy
Mon 10th Nov - Dublin Vicar Street
Tue 11th Nov - Belfast Limelight
Thu 13th Nov - Inverness Ironworks
Fri 14th Nov - Dundee Fat Sams
Sat 15th Nov - Glasgow Barrowlands
Mon 17th Nov - Newcastle Academy
Tue 18th Nov - Leeds Metropolitan University
Wed 19th Nov - Stoke Victoria Hall
Thu 20th Nov - Nottingham Rock City
Sat 22nd Nov - Oxford Academy
Sun 23rd Nov - Norwich UEA
Mon 24th Nov - Cambridge Junction
Wed 26th Nov - Folkestone Leas Cliff Hall
Thu 27th Nov - London Astoria

Tickets confirming Stone Gods only at Live Nation so far.
17 July 2008
Birmingham Gig with Kerrang Radio DJ Emma Scott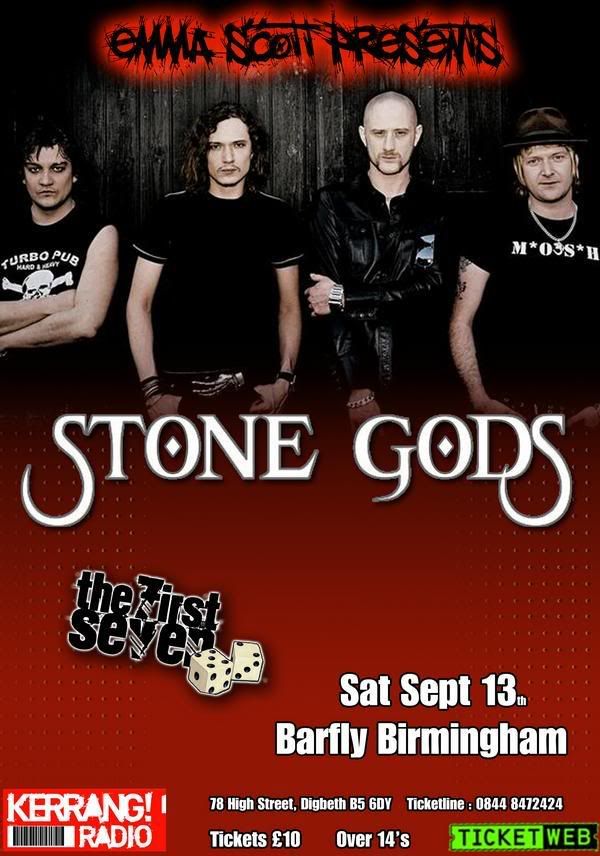 9 July 2008
Stone Gods to play Moonfest
Stone Gods are playing the festival Moonfest, in Westbury Wiltshire on Saturday 30th August . Tha band will be on the main stage and are playing at 3pm. For more details go to www.moonfest.co.uk
8 July 2008

Total Rock Radio show - Sunday 13th July
Some fun to be had on Sunday listening to Total Rock as Richie and Toby will be there to chat and play some of their favourite tunes! Listen in between 5-7pm www.totalrock.com
7 July 2008
CONGRATULATIONS STONE GODS!!

Back in October 2006, Dan Hawkins took over his MySpace page and blogged assuring his followers that there was indeed life after The Darkness, that he was doing fine, and that he and Richie and Ed were far from down and out and had a new and exciting project up their sleeves. On that very same day, another guy blogged using the exact same blog title. His name was Toby Macfarlaine. An adding of  2 + 2 later and Christmas arriving, we were informed of the official breakup of the previous band and the formation of a new rock monster, as yet un-named. The band members were to be Richie Edwards, Dan Hawkins, Ed Graham, and said Toby Macfarlaine.

This collection of musicians, known at the time as only, "the new band" continued to inform us of rumblings afoot down in the depths of the Flatlands, of a small piece of the great English countryside being shaken to the core by thunderous riffs, pounding drums, causing rabbits to flee and the locals to shudder with fear! A new musical tornado was building from the storm of  four super-talented men's imaginations.

January 2007 and Dan informed the world that the big red button had indeed been pressed and recording had begun on the band's inaugural offering to the world and various reports from the skilled and ever illustrious Mr Macfarlaine's literary genius later, the album was completed, mixed and taken to foreign shores for mastering.

We learned during that time of the trials, bruises, eye injuries, fun, games, laughter and angst that went into the cooking pot to produce this legendary album. We fretted for them during the tough times, celebrated with them during their good times and on the very day they officially opened their website and launched their new name, STONE GODS, the Temple, who had been working alongside them since November 2006, opened our doors too, to all the fans out there who needed a spiritual home.

Today marks the pinnacle of their labours.

Silver Spoons and Broken Bones is an album of passion, pain, love and friendship. It's depicts the often brutal honesty of real emotions, the rawness of personal sadness, the joy of true brotherhood and the fighting spirit that is deeply engrained in the four incredible men that have created this work of art, not only within the lyrics, but within every resonant note and every grinding riff.

The best things in life don't come without hard work, sacrifice and determination. Dan Hawkins, Richie Edwards, Toby Macfarlaine and Ed Graham show the world, with this amazing album, that with all those qualities, anything is possible!
Dan Hawkins thoughts on one of his favourite young bands Yel Piracy!
Dan has shown once again his commitment to supporting the countries young and upcoming rock bands with a testamonial for the latest EP release for the band Yel Piracy. Dan says, "These guys totally rock, we need more band like this. The e.p sounds ace, really powerful gnarly riff rock!"
Check them out at www.myspace.com/yelpiracy

Album launch in Norwich
From the official Stone Gods MySpace:
To celebrate the release of "Silver Spoons & Broken Bones" on monday July 7th, Stone Gods will be appearing at Norwich HMV (Chapelfield Shopping Centre) to play an acoustic set and sign copies of the album.


The Gig will start at 5pm.

Rock the shop!

Love

SG 
_______________________________________ 
Album & Tee Shirt Special Offer 
Townsends Records are running a deal whereby you can pre-order the upcoming Stone Gods Album and a T-Shirt for the reduced price of £17.99! Cant go wrong!!!!!
Check it out and dont miss out!
_____________________________________ 
Site Update 
23 June 2008
 
Stone Gods chat with the Temple girls in an interview excusively for the site. Thanks guys, for the drinks and your patience!! You all of course, rock!!
See Audio & Video section in the Gallery
________________________________________ 
10 June 2008   

According to theWaken Open Air (W.O.A.) official pages, Stone Gods are booked and confirmed to play at the metal Festival, held at Wacken in Schleswig-Holstein, northern Germany on Saturday 2 August on the True Metal Stage from 14.45-15.45
For more details see Clicky
_________________________________________ 
9th June 2008 
Tour dates postponed and replacement drummer brought in.

From an official MySpace bulletin:
"We very much regret to announce that due to an emergency health issue of our drummer Ed Graham we will have to postpone the shows in Liverpool (June 10th), ardiff (June 11th) & Bristol (June 12th).



In order to make the rest of the tour and the two festival gigs happen , we are in the process of rehearsing a new drummer.



We are really sorry to do this but Ed is just not able to play drums at the moment and we apologize for any inconvenience that this might cause. As soon as we have the rescheduled dates we will post them via newsletter, myspace and website.



Stay tuned for further info

Love

SG"
 _______________________________
 
3rd June 2008 
A reminder that the single, Knight Of The Living Dead with B-Sides, Goodbye and Pretty Ugly will be released on 23 June. Available at all good music outlets.
____________________________ 
30 May 2008
Stone Gods debut album "Silver Spoons & Broken Bones" is now available to pre-order from Play.com We will update as other vendors follow suit. In the meantime, we can marvel at the awesome cover art! Nice job!!
The forthcoming album 'Silver Spoons & Broken Bones' will be available on vinyl as well as CD! Release date is 7th July.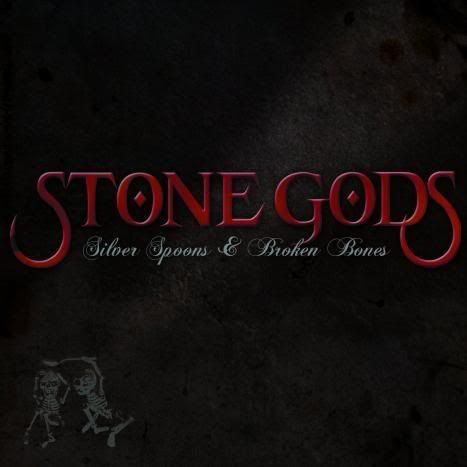 __________________________
28 May 2008
Site News - Knight Of The Living Dead Video 
You can now watch this awesome promo taken at Leeders Farm on our Gallery page.
                                               ___________________________
27th May 2008
Official announcement from the band's MySpace: 
Main Tour Support Announcement
It is with great pleasure that we can announce that the main support for the June tour will come from none other than Big Linda!
The other supports will be announced very shortly, so stay tuned.
24 May 2008
Latest News On Special iTunes Release from the band.
 
iTunes and more
From the 26th of May through to the 22nd June, exclusively through iTunes UK, you will be able to download three album tracks: Knight Of The Living Dead, Defend Or Die and Makin' It Hard. This is so y'all have a little extra from us because we think you deserve it!
It'll work like this: when you buy one or more tracks from this 3 song bundle, the ISRC codes are logged so if you go back to buy the full album in this way, you'll get 79p, per track, off the cost of the album proper. How cool is that?
Extra fun arrives on the 23rd of June when the single Knight Of The Living Dead with it's b-sides, Goodbye and Pretty Ugly will go live in all UK digital shops too.
So get yer clickin' fingers at the ready and your headbangin' boots on. The beginning is nigh!
SG

Also a reminder that the Bruce Dickinson Show where Richie and Dan, interviewed each other can still be heard till next Friday  at  www.bbc.co.uk/6music/shows/bruce_dickinson/   
21 May 2008
Dan & Richie take over Bruce Dickinsons Rock Show  - Friday 23 May - 10pm -1am

Messrs Edwards and Hawkins are appearing on Bruce Dickinson's rock show on BBC 6 Music between 10pm and 1am this Friday 23rd. Due to Mr Dickinson being busy making people's ears bleed, our heros step up to the plate and take over the show. Interviewing each other. Yup, you read that right.

Tune in and rock out Clicky
Don't miss it!
                                              ____________________________
 
15 May 2008 
Official Album Track Listing. 
The official track listing for the debut album, Silver Spoons & Broken Bones has been made public today and is as follows :
1: Burn The Witch
2: Don't Drink The Water
3: Defend Or Die
4: You Brought A Knife To A Gunfight
5: Magdalen Street
6: Where You Coming From
7: Lazy Bones
8: I'm With The Band
9: Start Of Something
10: Makin' It Hard
11: Wasting Time
12: Knight Of The Living Dead
13: Oh Where 'O My Beero
Release date is 7th July
Also a reminder of the tour starting in Liverpool on 10th June (see gig diary or all the dates), the iTunes exclusive release on 25th May and single release on 23rd June. Lots to look forward to.
 
7 May 2008
Exclusive iTunes Release News!!

As per the bands updated biography.. the band have confirmed to the Temple today that this IS a different entity to the single.
More new music
can only be cause for celebrations!! Rock On!

"Having already sold out their first limited ep release "Burn the Witch" the next phase kicks off with an iTunes exclusive release , due out May 25th, accompanied by an intimate club headlining tour, supported by a single release of "Knight of the living dead".Festival appearances at Download and The Isle of Wight are confirmed and the debut album (Recorded at Dan Hawkins' own studio and engineered/co-produced with Dan by Nick Brine, mixed by the highly acclaimed Mike Fraser and mastered by Grammy Award winning Adam Ayan) will follow on July 7th 2008."


                                        ______________________________________             
Band Announcement -New Album Title
The band have anounced on their blog the title of their long awaited album..
My lords, ladies and gentlemen;
From the horses mouth, so to speak:
 
Stone Gods are happy to announce that the title of the forthcoming long player is "Silver Spoons & Broken Bones".
You heard it here first!
 
Big love, y'all.
SG
                                             ______________________________     
 
New article from Stone God's Tech Adi Vines - Adi's Page
New audio interviews from Scorpio Promotions in the Pres section
Enjoy! 
                                            _______________________________

The Temple Forum
As you may know, our forum has been down for the last few days thanks to our previous provider managing to lose ours and hundreds of other forums. However - thanks to our outstanding fortitude facing the slings and arrows of outrageous fortune - we have another one ready and online for you. We hope you will all join us to chat, banter, and share info and photos of Stone Gods.
Like the band themselves, we are not quitters, no matter what fate throws at us!

Everyone is welcome, new and old. 
                                            _________________________________
Tour Poster
Tour Dates, Single and Album Release Dates
From SG's MySpace
June
10 Liverpool Academy II
11 Cardiff The Point
12 Bristol Thekla
13 Donnington Download
14 Isle of Wight Festival
16 Oxford Academy
17 Northampton Roadmender
18 Brighton Concorde II
19 London Islington Academy
21 Birmingham Academy II
22 Newcastle Academy II
23 Glasgow King Tuts
24 Edinburgh Cabaret Voltaire
26 Dundee Doghouse
27 Manchester Academy III
28 Stoke Sugarmill
29 Norwich Waterfront

The next single will be released on June 23rd followed by the album on July 7th.
       _
                                            _____________________________
Brixton Velvet Revolver Support Photos 
It's with sincere thanks to  Moonshayde Photography we have their kind permission to add their awesome photos of the Brixton gig to our Gallery. Check out more of their great work, including the photos of Velvet Revolver at Clicky
                                            ______________________________
Stone Gods Temple now on Bebo and Facebook
If you use either of these, please feel free to add us

Facebook Fan Page 
Facebook group
Bebo Fan Page

                                                  ___________________________



Site news! 
Your Questions Answered!!
We asked you to boggle Adi Vine's mind with your question and you did! Adi as kindly answered them all with his usual wit and charm. Check out our intrepid Tech's page and in the spirit of keeping him even more busy than he normally is, give him some more question to ponder!
The Magical Mystical World Of Adi Vines
                                                    __________________________
Stone Gods On Total Rock Radio
8 February 2008 

From the Boys!
TOTAL ROCK RADIO
Hey Guys

Tune in to 'Total Rock Radio' between 5pm and 7pm on Sunday 9th March for a live interview with Dan and Richie. They'll be talking about the band, the album and also playing some of their favourite tunes.

Cheers

SG
                                                     __________________________      
Stone Gods to support Velvet Revolver
5 March 2009
Latest from the band..
Wednesday, March 05, 2008
 

Stop Press

Another slice of good news from good ship Stone Gods...

We are confirmed support for Velvet Revolver on 26th March (London - Brixton Academy) and 27th March (Brighton - The Brighton Centre).

Get your rockin' boots on!
                                        _______________________________

EP hits number 2 in the Radio 1 Rock Charts!
Tuesday March 3, 2008 
                                       ____________________________________                              
ADDED EP NEWS FROM THE BAND 
25 February 2008
good job
Monday, February 25, 2008
Well, it's a good job the Burn The Witch EP is available for download.
Physical copies have, we discover on the day of release, already SOLD OUT!
Reports of great lines of rockers in tears outside Britain's record emporiums
are largely unconfirmed at time of going to press, but we all know it's happening.

God, you lot are quick. Well done!

Sorry to anyone left a bit disappointed, but thankfully the download version is
fully available (Clicky) and while
it doesn't contain all the caffeine of the physical format,
you'll find it's just as tasty as the real thing.

Love, respect and devil-horns-a-raisin',
SG
                                         __________________________________                                                        
EP LAUNCH TODAY!!!
25 February 2008
Today marks the launch of Stone Gods debut EP Burn The Witch containing four amazing tracks, Burn The Witch, You Brought A Knife To A Gunfight, Breakdown and Heartburn. All tracks were recorded at Leeders Farm Studios and produced by Dan Hawkins and Nick Brine. The EP is available by order at most record stores and online at HMV.com, Play.com, Amazon and also via download at 7Digital, Play.com and iTunes.
Reviews are beginning to come in so check out the press section to find out more.
                                  __________________________________________
Isle Of Wight Festival 12-15th June 2008
19 February 2008 
Stone Gods are on the Band list for the Isle of Wight Festival in June. There are no details of times or days yet but keep an eye on the festival site for more. 
                                                    ____________________________________________________

Stone Gods Podcast DVD!
13th February 2008
Want a DVD copy of the boys' podcast by Metal Gods from the Nottingham gig?

Then check out their site and MySpace for SG news and other great rocking stuff!!

Many thanks to the guys there for making this available!
 __________________________________________
Stolen Gear  
Ex-Darkness members have guitars stolen
Stone Gods have gear lifted at first gig
Two guitars, a wireless beltpack and some accessories were stolen from the Stone Gods first gig of its first UK tour at the Fleece & Firkin in Bristol on January 17th. The Stone Gods consists some members of the former Darkness rock group and had just embarked upon its first tour of the UK. Due to the commitment of the touring schedule, the band was unable to alert the public to the crime until their tour was completed last week.

The items stolen are:

Gibson Explorer (black) Serial no 00652369 (inc Gibson case, strap & Sennheiser wireless beltpack)

Hohner Acoustic (blueburst) serial number TBC (black plastic case)

MI Pro was alerted to the crime by Graham Ettrick of S Johnson & Co, the providers of the MIA endorsed Cover Notes insurance scheme for MI stores, suppliers and musicians.

Should anyone come into contact with this equipment, or if you have any information regarding its whereabouts, you should contact Ettrick on
0121 327 1977
or graham@covernotes.co.uk. He will then pass any info on to the Avon & Somerset Police.
That's what it says on the site. If anyone does know anything, we suggest you contact the lads' myspace or Adi Vines as well.
________________________________________

EP PREVIEW
Thank you to those nice Amazon people! You don't have to buy it from them, but have a listen to a snippet or two.
Available 25 February 2008... Preorder it now! 
 ________________________________________
SERPICO DRUMMER'S HAND INJURY CAUSES THEM TO MISS FURTHER SUPPORT GIGS
From the band's MySpace:
Really sorry, but it looks a lot like we're going to miss all of the following gigs:

Birmingham
Oxford
Nottingham

I cannot apologise enough and tell you how pissed we all are at having to miss these shows. This was gonna be my first time playing in Oxford, which was gonna be really special for me, and obviously we love Nottingham and we know that people were turning out in force for that show.

However, we've got to think about Jonny's long term health and if it's a case of missing a few shows and his hand healing properly, or doing them and this becoming a recurring injury or giving him arthritic fingers in a couple of years then it would seem to be the lesser of two evils to miss the shows. Again, we've got to consider the recording too - everyone wants us to make the best record we possibly can and so we need everyone 100% for that.

We will be looking to rejoin the tour in Portsmouth on Sunday night.

Anyone who was coming just to see us at these shows please get in touch and if you can make it along to any of the other gigs then i'll do my best to guestlist you for them. Either that or next time we're in town :)

Mikey x
 _______________________________________
SERPICO FORCED TO PULL OUT OF SHEFFIELD SUPPORT 
From the band's MySpace:
Hey guys,

Really sorry to have to say we're gonna have to pull out of supporting Stone Gods in Sheffield tomorrow - we enjoyed the gig at the Corporation so much last time, we were really looking forward to another trip to the Steel City.

Unfortunately last night Jonny suffered a rather painful ligament tear in one of his knuckles. He soldiered on through the gig last night in Newcastle, but having spoken to doctors today they've strapped it heavily, given him painkillers and said he's got to rest it for a few days to let the injury heal.

Obviously we've got to consider that we're recording in just over 10 days time and so we've got to be sensible and try to protect it as much as possible.

On the bright side, we have a day off today and he should be good to go by Birmingham and hopefully we should be able to carry on the tour as normal.

So big apologies to anyone coming to the Sheffield gig, hopefully you'll be able to catch us again soon!!

Mikey xx
 _____________________________________________
WIREIMAGE & GETTY
20 JANUARY 2008 
Wireimage  and Getty Images now have new photos from the Manchester gig on their pages. 
http://www.wireimage.com/GalleryListing.asp?navtyp=gls====300607&nbc1=1
 ________________________________________________
EP NEWS 
20 January 2008
From  Rock 3 Rock Radio (Unconfirmed - SGT)

Stone Gods - Burn The Witch
---
The EP will include four tunes to get excited about, Burn The Witch, Breakdown, You Brought A Knife To A Gunfight.. and Heartburn, we haven't got a running order yet, but who cares! its four roll'aking tracks of great rock music and if you have checked out the bands website or the pernicious myspace page then you have already got the gist, the band are writing and playing exciting good time rock that will stick in your head long enough for you to chug along too and it looks like that they are writing anthem's.. you know.. the ones that you can sing along to when standing on the roof of your neighbour's car at midnight.

It's a glorious celebration of everything that makes loud, blaring rock 'n' roll so reliably exhilarating, this EP is a statement that the band are going to be around for many a long year, long live the Gods!

Richie Edwards: Voice/ guitar
Dan Hawkins: Guitar/ bv's
Toby Macfarlaine: Bass/ bv's
Ed Graham: Drums
 _________________________________________
Live from the studio...
9 January 2008
A chance to see the boys in an intimate and acoustic set recorded just for the fans! Find the video for Magdalene Street in our Gallery in the media section. Also, check out the other new video... Ed's Fishing Trip... Nice job Ed!
UK Tour Support Band!
31 December 2007
Serpico are supporting the Stone Gods on January's Tour... you can find them and check them out here..
 
Refunds
14 December 2007
From the band's site and myspace
''hey
Please get in touch with our management on how to receive your refunds for the cancelled Apocalyptica gigs under:
office@mateingermany.com
again ...sorry for any inconvenience this may have caused you. sg''
3 Gigs Cancelled
12 December 2007
The Stone Gods have cancelled their next 3 gigs, where they were supposed to open for Apocalyptica.
Unfortunately, the stages at the venues were not big enough to welcome our gods.
Cancelled support gigs
05 December 2007
This weekend's support gigs have been cancelled due to illness. Richie, who was fighting illness during the first few gigs, has succumbed and has been ordered to rest until early next week. more news as we get it. 
Media Assault begins!
28 November 2007
The mighty Stone Gods began their media assault on the rock loving public with an exclusive interview with guitarist Dan Hawkins on BBC Radio One Rock Show. Dan chatted with Daniel P. Carter on Tuesday 27th November, discussing the origins of the band, their sound and the reaction of the hardcore fan base to their music. Listeners were also treated to the first ever play of one of the tracks from their upcoming EP, Burn The Witch, due for release in January 2008. Great interview which we are hoping to stream for those who missed it.
Stone Gods Temple MySpace page launched
28 November 2007
For those who wish to chat with us on Myspace, you're all welcome to come along and add us on www.myspace.com/stonegodstemplesite